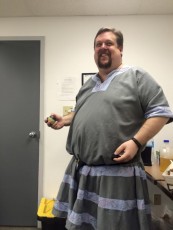 This weekend I had the great pleasure of being invited to Edmonton to sign and sell some of my books for the All Saints Medieval Fellowship. Prior to this the 1812'ers and the SCA was really my only exposure to reenactors, I'd met folks from Darc Company and a few other groups, but really they were all SCAdians and I only met them at SCA events. All Saints Fellowship and Ancient Arts School is a new organization, the Fellowship is an actual registered church and plan on opening a registered school to teach the long forgot arts such as blacksmithing, fiber arts, and much more. Since the parent organization (All Saints Medieval Fellowship) is an ecclesiastical organization they do require that all members believe in a supreme being, but they don't seem overly concerned with specific personal beliefs, I met one gentleman who was a firm astaru believer (Old Norse religion).
Jeanette owner of Guinevere's Games, maker of my favorite deck of cards, was there as well with her wares. She gave a great demo of medieval games and brought some for everyone to try some games. I got to play a little Noddy with my fiance Faye, but I was a little too busy talking to folks about games and my book to focus on the game.
Dan, the organizer, requested that I also give a little presentation. I wasn't really prepared but I gave a small talk on period games, both board games and sports and showed off some period reproduction balls that Faye and I made. The group seemed to enjoy the talk and were really interested in the featheries (medieval golf balls) we brought.
If you live in Alberta, especially if you live in Edmonton, I highly recommend you look up the All Saints Medieval Fellowship, the school they are hoping to found will be a boon to re-enactors and casual history fans alike.